Once Upon A Time In Hollywood... Couchsurfing
My 35th Birthday recently passed and I booked 3 days to go up to LA from TJ on a weekend trip to celebrate. It was truly the best Birthday I've had since I turned 30 and I'm here to share it all with you in detail. Here's what we're going to cover this week on Metal Mouth Style:
1. My first Couchsurfing experience
2. Everywhere I went in LA and why these places are great (or not so great)
3. My review of "Once Upon A Time In Hollywood" In Hollywood
My first stop in LA after getting off the bus. Oh wait! The Bus! Hot tip. If your
only
a few hours driving distance from your destination don't be too proud and take the damn
Greyhound
. It's really not bad for a short trip. Anything over 5 hours I'd suggest finding another option but under 5 hours your golden on the Greyhound. It gets you from point A to point B for a fraction of the price of renting a car/hiring a driver. You get there in the same time it takes to drive if you take an
Express
trip without any stops from San Diego to LA. My trick is to Uber from my beach pad in Tijuana. Then I cross the border using the Pedestrian crossing at San Ysidro Port of Entry which (usually) takes a maximum of 20 minutes wait in line during peak hours (10 minutes during non peak hours). Once I cross the USA border I'm right at San Ysidro which is where the Greyhound bus stop is to take you into DTLA. Doing it this way you avoid waiting in line at the US/MX border on a bus filled with people who are slow moving and all of a sudden can't find their passports in their carry on to clear customs.
Moving right along! My first stop in LA after getting off the bus was to my Couchsurfing apartment which was located in the heart of DTLA by the Staples center. This was my first time using Couchsurfing. I always use Air BnB but I really wanted to push myself outside of my comfort zone this trip and do something I typically never would do. The physical place that I stayed was definitely at 10/10 hands down. There was front door concierge service and the view from the 17th floor was killer as you can see in the video below.
My Couchsurfing host on the other hand. I would give a 3/10. You can find out why I am giving my first surfing experience such a low rating by clicking play on the most recent episode of The Metal Mindset Podcast below. Shit gets real and nothing is as it seems. Typical for LA. The view makes it look like the best place to stay but the host was... well just hit play already!
Once my bags where dropped off I went to
Baby Blues BBQ
in Echo park. I used to love this place when I lived in LA 4 years ago. At that time it was located on Melrose Blvd. They've since relocated after having some issues at the other location. One for instance is when a senior drove through the wall of the bar area in the middle of the day and injured the bartender. I remember that happening when I lived in the area and my roommate at the time (who was a serious regular we're talking 3 times a week) came home and told me the news. Which bummed me out as I couldn't get him to bring me home BBQ for a while during reconstruction. BBQ is seriously the hangover cure. I got to meet the owner Rick while I was there having my Birthday lunch that day. Really nice, chill guy and he said they are very happy in this new location. I suggest you check it out if you love smoked meat and classic southern sides.
After lunch I went back to the Condo for an outfit change and then checked out the bar
Prank
which was conveniently attached to the building. I liked the indoor/outdoor feel of this place upon first walking in. The bartenders where all really friendly and where quick to greet everyone walking in. This spot easily became one of my favorite bars in LA. There was not one day that passed that I was not at this place enjoying a libation. Their Mascot
Lucky Luke
does an impeccable job of making everyone feel welcome and in my eyes is the definition of the 60's. If you go to Prank ask for Lucky and tell him Tiffini Truth sent you. Then get a selfie with him and sent it to me! I'll post it on a future blog. The vibe is very social and it's great for meeting new people if your a solo traveler. They also do food here that I briefly sampled and it was really good. I was mostly there to do drink but definitely come here to drink and dine if you can.
1100 S Hope St, Los Angeles (That's Lucky Luke!)
For my Birthday dinner that night I went to
Craig's
in Hollywood. This place is known for a celebrity A-List whose who. I had to make reservations 2 weeks in advance to get in during the dinner hour between 8-9. Expect to do the same for yourself if you plan to go here. I personally wanted to check it out to see what all the noise is about. It's a small quaint space which is obviously why it takes weeks to get a reservation. The service I'd say overall from Hostess greeting, to seating, to being served was a cool 7/10. Definitely not impeccable or all that memorable service wise. Our server did not take much time with us and seemed very rushed. It could have been an off night but that was my experience here. The hostess did not greet me upon entry (Which always irks me especially when no one else is in front of me to be seated. I used to Hostess a long time ago and I was damn good at it). I had to go up to her and ask for my reservation. When being seated the man who sat us at the table almost chipped my freshly painted pedicure when pushing in the table. Luckily I have reflexes like a cat from working with power tools for the past 8 years and avoided any aesthetic damage. However, the ambience and decor is really killer here. In that arena I give Craig's a 10/10 on decor/ambience. Especially for the privacy that you get when seated in a booth. It was nice of them to bring out a birthday dessert for me at the end. I must credit that. That's actually what bumped my rating up from a 6 to a 7/10. I went with the Shrimp Cocktail as I was still full from my late lunch at Baby Blues BBQ.
8826 Melrose Ave, West Hollywood
Day 2 in DTLA I slept in, cleaned my couchsurfing hosts apartment (because you should always pay it forward) styled my outfit and took a walk. The best way to see a place is to walk through it. Period. I was glad that my Birthday hadn't hung me over too much so I could get some miles in the next day. After walking for an hour Downtown I realized that the condo was in very close proximity to
The Palm
. This is a place I've been meaning to try for years! I took myself out to lunch here and had great time. The service was top notch from a friendly warm greeting when you walk in to sweetheart servers and a talkative bar staff. I initially sat to a table but being alone I asked to move into the bar area. That's what I would recommend for any solo traveler. I was first served by Ro who was so nice she bought me my Martini as a Birthday present. Then Gregg took over for her and he was great to chop it up with and sold me on buying a membership. You pay $25 and get a membership card where you start earning points for every purchase you make at The Palm. When you get to 15,000 points you get your face painted on the wall and a party thrown for you in Las Vegas. On the way to earning points there are tons of other promotions/rewards as well. For example every year on your Birthday you get a free Lobster dinner. When I registered I got an automatic $25 credit towards my next meal. It's totally worth it if you live in or near a city where there is a Palm location as it pays for itself immediately towards your next fine dining experience.
Night 2 in LA I went to this awesome Cuban spot called El Floridita. This was a total unexpected surprise for me. I went based on a recommendation from a bar patron while I was at Prank. I met the Owner Armando who hooked up this amazing meal! It's a Salsa club/Restaurant and has an old school movie feel to it. I felt like I was in a deleted scene from Scarface. You really feel like your in Miami not in LA when you walk in. It's in a strip-mall in Hollywood and very unassuming. Girls are being spun around by men on the dance floor and your table is seated right beside it all. The band is incredible and the service was top notch. From being greeted at the door to served inside. I really dug this place. It's definitely more of a place you go with a group or with a friend. This also is a great place to take a date if your more adventurous. I was there on a Saturday night and the owner said that it really turns up to a more party vibe on Monday's. So if your in LA on a Monday this is where you want to be at night for a more civilized party vibe with live music.
My 3rd and final day in LA ended with an afternoon Matinee of "
Once Upon A Time In Hollywood
" at the
Arclight Cinema
right in the heart of Hollywood. Quentin Tarantino is one of my favorite directors of all time. He's one of the few people that can actually get me out to the movies as I much prefer screening movies in the comfort of my own home. However, his films only come out every so often which makes it feel that much more special to see them in theaters. Being in LA for this was just absolute perfect timing. Seeing it at the theater the movie itself features was the icing on my non existent Birthday cake (Because when you choose to drink alcohol you must forgo the sweets! Bad combo so pick your poisons wisely my friends).
Arclight Cinema 6360 Sunset Blvd, Los Angeles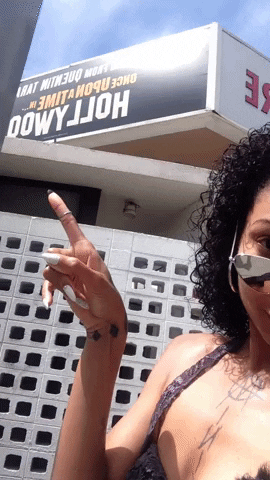 After watching the movie at I had to go to
Musso & Frank
for two reasons. Not only did I have one of the best day dates by myself there on my previous trip to LA which you can read about
here
. It was also heavily featured in Once "Upon A Time In Hollywood". So was their classic Bloody Mary which is exactly what I ordered when I arrived from the bartender Sonny. Musso & Frank even at it's peak hours is the friendliest place to be on Hollywood Blvd. The Bloody Mary was exactly what I needed after 2 previous nights out drinking already in LA. There was no room to sit as it was Saturday and they where slammed but even standing at the bar having my Bloody Mary I was made to feel very welcome and loved taking in the ambiance all over again. I love love LOVE this place and will return every time I'm in LA. Both "Once Upon A Time In Hollywood" and Musso & Frank gets a 10/10 x infinity rating from me.
I truly hope if your in the LA area or planning a trip there you follow in my footsteps to start telling your own story. You don't need a tour guide in LA. Never get on one of those Hollywood tours on the Blvd. All you need is to have your own inner drive and use your feet to get moving (with the help of Uber of course). The one thing I still love about this city is that LA is what you make it and it's different for everyone. There is something great going on every day/night of the week. There's niche to mainstream. You just need to be in the right location to find it or you won't see anything at all. Hopefully this post helps you map out your next trip to Hollywood.
Here's a closer look at my Birthday dress to round out today's post & I'll see you back here next Monday for more Metal Mouth Style!
Style Breakdown:
Clutch TJ Flea Market: $3
Total Look Cost: $17
About Me: My name is Tiffini Truth and I'm a Power Tool Performer!
I love style and this blog is my way to share my personal style experience with you when I'm not performing my live show in my home studio. I have a weekly Podcast "The Metal Mindset"
which goes live every Wednesday. "
This Week In Metal
" is my Metal Art Youtube series Season 1 is streaming now.
Subscribe to
My Patreon Page
so you too can also get the look for less online with my personal styling advice.
See you next Monday for more
Metal Mouth Style
.